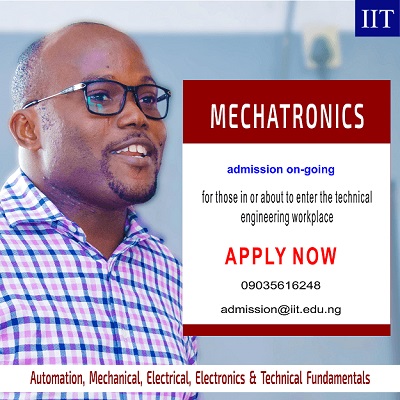 The IIT Mechatronics programme is an intensive industrial technical training aimed at equipping you with the skill needed to function productively within the various manufacturing or engineering services industry. This programme improves your technical knowhow and in turn improves your employability scope.
With its high practical content, the IIT Mechatronics programme equips you with key technical knowledge, troubleshooting skills, installation and commissioning skills, maintenance skills, fabrication skills, technical ICT skills, work values and personal leadership skills necessary to man industrial technologies in automation, electrical, electronics, and mechanical trades.

Who can Apply?
Anyone in or about to enter the technical engineering workplace. Practicing technicians and engineers and Graduates of tertiary institutions of Science and engineering background.

Duration?
6 months (full-time) or 1 year (modular/part-time/weekends)
This programme incorporates online and in-school learning.
For more information and to register visit:
www.iit.edu.ng/programmes/mechatronics

Or
Email:
[email protected]
Call:
09035616248