Are you a Customer Service Practitioner in Nigeria?
Customer Service Consultants, Representatives, Professionals, Managers, Instructors, Trainers, Experience Executive etc.... read this!!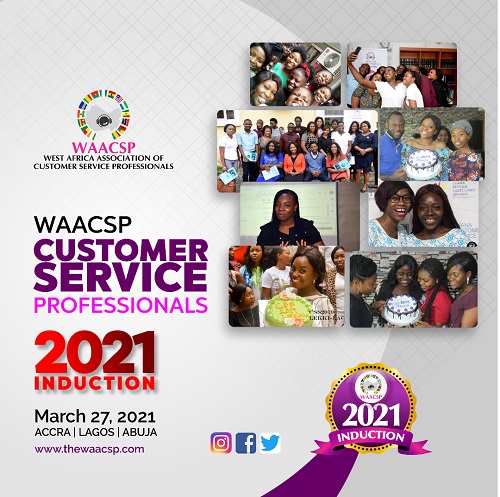 West Africa Association of Customer Service Professionals (WAACSP)
- the umbrella body of Customer Service professionals in the ECOWAS region, will kick start the 2021 service year with their members induction. Event will hold virtually and in person at three locations in Accra, Abuja and Lagos.

Date: March 27, 2021.
Over 200 service personnel' will be inducted across the association's three membership platforms of Certified, Professional and Fellows categories.
Four thought leaders in consumer rights and customer service advocacy in the region will be inducted as patron of the body:
Sola Salako Ajulo
Rufai Oseni
Benard Osei Duah
Stephen Essien
WAACSP
is on the forefront in professionalizing the customer service profession and also advancing customer service advocacy in the region. Since coming on stream in 2016, WAACSP have steadily increased the employability of service professionals, through training, listing and rating of service professionals for employment. The body's recruitment portal gives members the window for recruitment locally and on international level both physically and remotely.
Click to view WAACSP listed members on the recruitment page
HERE
Remote workings have come to stay
As a customer service professional, open your services to engagement globally.
The West Africa Association of Customer Service Professionals (WAACSP) recruitment portal is the gateway to earning from international brands.
Over 72% of WAACSP listed members on the portal are fully engaged and the association is strengthening its partnership with local and international organizations to always recruit WAACSP members for customer service and allied jobs through it's portal.
Are you a practicing customer service person and not yet part of the WAACSP network? this is the best time to join in and grow your career net worth.
Click
HERE
for details on how to be part of the 2021 induction

For details on WAACSP
Visit:

Web:
www.thewaacsp.com
Email:
[email protected]

Or WhatsApp:
Ghana: +233 57 076 0360
Nigeria: +234 702 500 3527

Follow WAACSP on Socials Media:
Twitter:
@waacsp
Facebook:
WAACSP
Instagram:
@waacsp_english