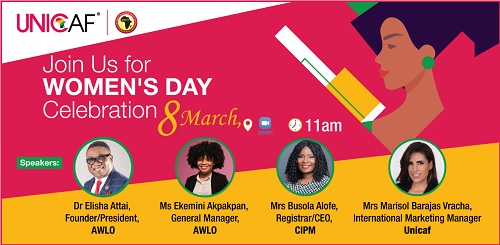 Unicaf
and the
African Women in Leadership Organisation (AWLO)
invite you to honour women on the
8th of March
,
International Womens' Day
, by attending a special online session about women, education and leadership at
11:00am
via Zoom.
The event will highlight this year's International Womens' Day theme "
Women in leadership: Achieving an equal future in a COVID-19 world
" with presentations by:
Dr Elisha Attai, the Founder and CEO of AWLO
Mrs Busola Alofe, the Registrar of the Chartered Institute of Personnel Management (CIPM)
Ms Ekemini Akpakpan, the General Manager of AWLO
Mrs Marisol Barajas Vracha, International Marketing Manager of Unicaf
The Unicaf Scholarship Programme is helping thousands of women earn internationally recognised degrees. Unicaf offers scholarships, easy payment plans, and support to enable all women to transform their lives.
The African Women in Leadership Organisation (AWLO) is a non-profit organisation open to all women leaders across Africa.
The International Womens' Day online event will conclude with the award of the prizes to the winners of the Unicaf essay competition '
The importance of empowering women leaders in Africa through quality higher education at times of crisis
'.
To ensure your participation in the event we encourage you to make a reservation in advance.
Date & Time:
Mar 8, 2021 11:00 AM in West Central Africa.

Click here to register online