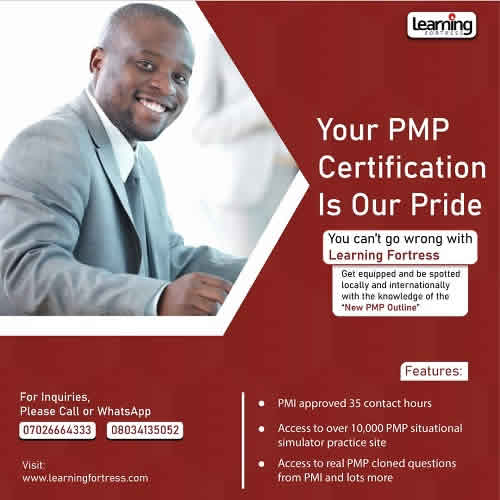 The month of October is here again! Some of your high expectations in personal development for 2021 are yet to be met. It's time to refocused on reaching your goals before the end of the year.
If you had plans for your personal development, now is the time to take actions towards achieving those plans.
A career in Project Management can take you in many different directions. Keep up your personal development with any of our detailed PMP Exam Prep class (includes Agile PM) that makes it easy for you to understand the PMP framework and also pass the Certification Exams.
Our world-class PMP Training is affordable and you can either choose the classroom option, live virtual (zoom) or have access to our online PMP training from any device, study at your pace and from anywhere in the world.
Let's take you through the Project Management journey...
Having
PMP
or
PRINCE2
Certification on your resume is seen as a huge advantage for candidates and recruiters alike, today. Spice up your resume, add immense value, demonstrate proof of your commitment, and set yourself apart from the crowd. Organizations are looking for worthy Project Management Professionals that can join them. Here is an opportunity to get equipped and be spotted locally and internationally.
Learning Fortress is offering: a 25% discount on our Executive PMP/PRINCE2 Project Management Classroom Training.

Individual bonus:
You get to pay just N59,999 for the course which is originally N80,000.
Group bonus:
Group of 3 Participants get to pay N162,000 instead of N240,000.
Take advantage of this Opportunity!!! Hurry and enroll. The first 3 people in Abuja, Lagos and Port Harcourt who register will get to pay just N59,999 instead of N80,000.
This offer is available until 25th of October 2021. Don't miss it.
CLICK HERE TO LEARN MORE
Our PMP Project Management Classroom Training
So many people still choose to go with our more 'traditional' method of classroom learning in
Abuja
,
Lagos
and
Port Harcourt
. Lead by our
passionate and experienced trainers
to take you through the 2 weekends (Saturday and Sunday) sessions of training and you will be glad you came.

PMP
Price:
N80,000.00
NOW:
N59,999.00
Join Now & Get Discount
PRINCE2
Price:
N80,000.00
NOW:
N59,999.00
Join Now & Get Discount
TRAINING DATES:
on weekends 30th & 31st October and 6th & 7th November 2021
WHERE:
ABUJA
I
LAGOS
I
PORT HARCOURT
Our PMP Project Management Live Virtual Training

It's been awesome...the next will be greater. Participants will get training materials / manuals, video of the class at the end of the training, PMI cloned questions/sample questions, a complimentary copy of the 2021 Exam Prep books and lots more.

Our PMP Project Management Online Training
It's fully immersive, packed with detailed video sessions and quizzes at the end of each section. At the end of the course, you will have the opportunity to test your knowledge with our assessment test. Thereafter, a certificate of completion will be issued.
Don't wait! Take action now and be one of the people to get the N40,000.00 training for just N25,000.00
CLICK HERE TO LEARN MORE
Our PRINCE2 Project Management Training


Get trained by industry experts for successful handling of projects. Get a deeper understanding of the Principles, Themes and Processes upon which PRINCE2 methods works. Are you interested in our PRINCE2 Project Management Training?
If you are looking for a detailed PMP Training that will prepare you for the certification examination then you are on the right track. Our success rate speak for us.
CLICK HERE TO LEARN MORE
To Contact Us:
Please call or send WhatsApp message to Lucia via this link:
https://wa.me/+2347026664333
or
07026664333
or email us at
[email protected]