If you are reading this email, you are open to attend the 2022 Microsoft Proficiency Training program in MS Excel & MS PowerPoint at a discount.
Is your knowledge and proficiency in MS EXCEL and MS POWERPOINT low, poor or none at all?

Do you know:
Your lack of proficiency in Excel may have cost you a job, improved salary raise or promotion? ...now is the time to acquire that skill (with a global certificate to back it up) on the most discounted fee EVER!
If you don't have a Microsoft proficiency certificate in these two key work skills, make plans to attend and obtain this certificate this August as it will improve your career worth, increase your employability and give you an edge on your CV/LinkedIn profile as you apply for the next job.
Microsoft Excel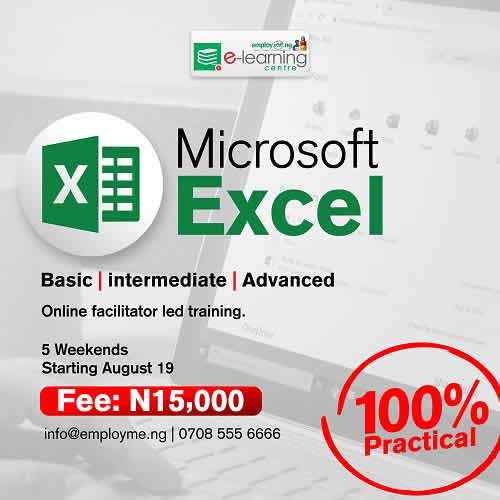 The Microsoft training will cover all of Ms Excel from basic, intermediate and Advance XL, most importantly, how to use key excel forms; Sumifs, HLook-up, Vlook-up and making excel presentation cosmetically appealing.

Microsoft Powerpoint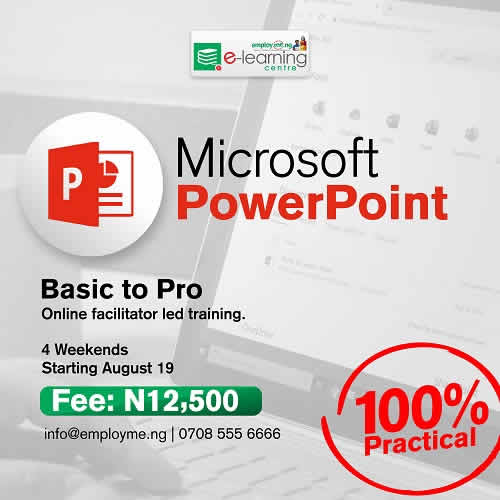 Powerpoint covers from basic to use and insertion of video, audio, graph and analytical ppt presentation as a professional.
The program sequence is:
Instructor led class teaching (not video or animation class).
Five (5) weekends.
100% practical
Online via zoom.
Video session after each class available to participants for further studies.
Whatsapp platform for students and instructors to learn and network during and after the program including posting job alerts.
Training Cost:
Ms Excel: N15,000
Ms Powerpoint - PPT : N12,500
To read more about the program and explained details,
click here

GET THE 10% OFFER:
Both packages cost
N25,000
but by virtue of this email, you get a 10% discount, pay
N22,500
to attend and obtain this key career certification.
To get the payment details for this offer, contact:
EmployMe E-Learning at:
Email:
[email protected]
or
Whatsapp chat
:
0708 555 6666
The Microsoft Applications Software Training [MAST] is jointly organized by Microsoft Certified Trainers Network (MCTN) and EmployMe (Nigeria) E-Learning, Nigeria's No 1 online training and job placement network.
Keep up with certifications, trainings and career enhancing programs with EmployMe Nigeria.

Contact EmployMe via:
Web:
www.elearning.employme.ng
Socials:

Twitter:
@EmployMeNg
Facebook:
EmployMe Nigeria e-learning centre
IG:
@employmeng