Are you looking for overseas study opportunities for yourself or a loved one? Meet with over 60 institutions from across the globe at the UKEAS Study World exhibition taking place in Nigeria. Study World is West Africa's biggest and best International Education Fair. With over 60 educational institutions attending from around the world, the event offers you the perfect opportunity to kick start your overseas education.
UKEAS Study World Exhibition - Overseas Study Admission, Scholarship, Visa Procurement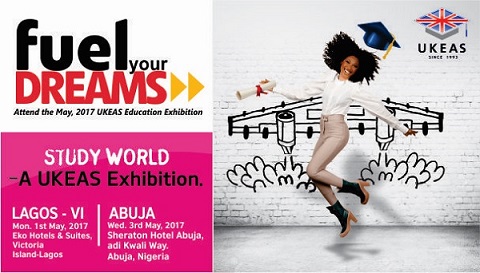 If you are a prospective student considering study at any level overseas, or a young professional considering ways to boost your career competitiveness, you cannot miss this
UKEAS Study World International Education Fair
.
With so much on offer, and all
without any cost to you
, demand for attendance at UKEAS Study World Education Fair is understandably very high.
Register now
to ensure that your place is secured today.
The Event
Taking place in both Victoria Island (May 1st) and Abuja (May 3rd), Study World prides itself on offering
FREE access
to its events. By taking
two minutes
to
register online
and select your venue of choice you will have secured your place at Nigeria's most hotly anticipated International Education Fair.

Lagos Event
Date:
Monday 1st May 2017
Venue:
Eko Hotels & Suites in Victoria Island, Lagos
Time:
10am - 5pm
Abuja Event
Date:
Wednesday 3rd of May 2017
Venue:
Sheraton Abuja Hotel in Abuja
Time:
10am - 5pm

REGISTER NOW!
Attending Institutions
Is a Master's Business your next life goal? Are you looking for one of the world's best art schools in order to take your work to the next level? Or is petrochemical engineering your vocation of choice? Whatever you want to study, Study World's attending institutions offer an amazing range of course options and degree levels. We pride ourselves on helping you find the perfect path for your international education! For a full list of all attending institutions, please
click here
Who Should Attend?
Prospective students/Parents/Guardians aspiring for foundation, A-levels, Masters (Research or taught ) and PhD aspiring to study in the UK, Canada, Australia, Ireland,
Private School owners and their final year students
Working Professionals aspiring for further studies
School counsellors
Scholarship bodies
All relevant stakeholders of the education industry
Benefits of Attending the UKEAS Education Exhibition
Save yourself the endless time spent on surfing the net to get information because those details will be made available instantly
Simplify the whole admission and study visa process.
Opportunity to be assessed directly by international delegates from different institutions across the world
One on one counselling and advise
Initiate your admission and scholarship applications
To learn about courses and career pathways that may best suite your career
Networking and contacts
Get bespoke answers on opportunities peculiar to your career/discipline
Free welcome pack with relevant information
Even if you are not ready now the information gained would come in handy when you or your loved ones are ready to process overseas study applications and study visas
Free registration, free admission processing and guidance with study visa procurement through UKEAS
Click here to register now
Or
Click here for more information