Are you looking for overseas study opportunities for yourself or a loved one? Do you intend to broaden your horizon? Visit PFL Education offices and get enrolled in over 40 destinations of Education First such as: Australia, Canada, Ireland, New Zealand, Singapore, UK and USA etc.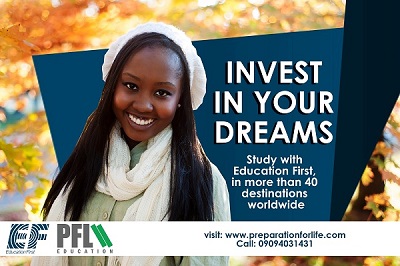 Experience success unlimited as you:
Achieve fluency, see the world, expand your international network – and launch your global future with Over 40 destinations worldwide
Gain skills for your global career with University-certified and internship programs, ensure you're adding to your CV while abroad.
The world's largest ranking of English skills, which features ranking and analysis of 72 countries and territories in 2016.
To get in touch with the nearest PFL Education representative to you,
click here
to register for free
You can also visit:
www.preparationforlife.com
or call
09094031431
for further details.