The Npower list of successful candidates 2017 has been released for checking. N-power Recruitment 2017 authorities has announced the release of the list of successful candidates shortlisted for physical verification exercise.
The modular programmes under N-Power will ensure that each participant will learn and practice most of what is necessary to find or create work. The N-Power Volunteer Corp involves a massive deployment of 500,000 trained graduates who will assist to improve the inadequacies in our public services in education, health and civic education.
The Npower physical verification will take place between Monday, 27th November to Friday, 8th December, 2017. Candidates can now follow the instructions below to access their pre-selection status.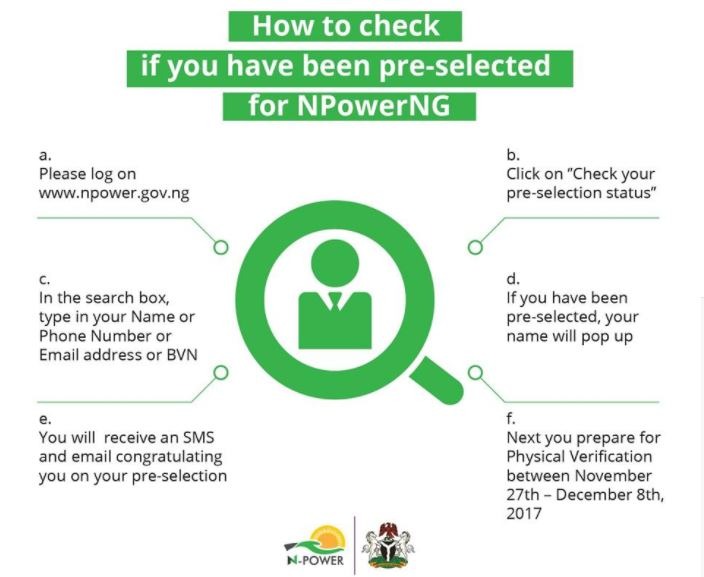 To check if you have been pre-selected for Npower physical verification, follow the steps listed below:
Logon to the Npower portal via: www.npower.gov.ng
Click on 'Check your pre-selection status'
In the search box, type in your Name or Phone Number of Email address or BVN
If you have been pre-selected, your name will pop u
You will receive an SMS and email congratulating you on your pre-selection
Next you prepare for Physical Verification on the dates stated above.
The N-Power addresses the challenge of youth unemployment by providing a structure for large scale and relevant work skills acquisition and development while linking its core and outcomes to fixing inadequate public services and stimulating the larger economy.