" …Searching for a Job is in itself a Job and must be done skillfully, one of the worst things most people do is to search unskillfully …" Anthony A. Kila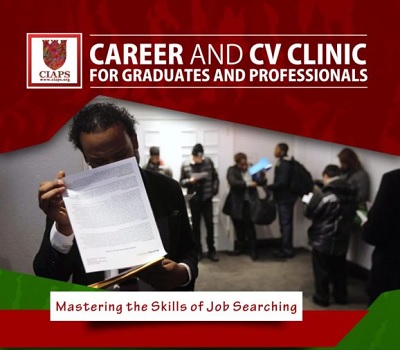 A common error with job seekers or those wishing to change jobs is not to consider the needs of prospective employers.
Even the most qualified candidates sometimes don't know how to present their skills.
Too many job seekers are looking for jobs in the wrong place and in the wrong way.
Most people don't even remember or bother to consider that it costs employers time and money to examine job applications and applicants.
This CIAPS Career and CV Clinic is aimed at helping participants develop efficient ways of preparing for Job Applications and Career Development.
The programme is rigorous, interactive and very engaging, it is strongly recommended that participants come with questions and issues relating to specific problems they have to deal with in their jobs search.

Participants will leave the programme with a clear idea of:
How to identify appropriate job opportunities
Prospecting to Employers that did not advertise
Techniques for writing convincing CVs
Techniques for writing convincing Cover Letters
Strategies for understanding what employers need
Participation Details:
Venue:
CIAPS 21 Adekunle Fajuyi Crescent off Adeniyi Jones Ikeja Lagos.
Date:
Saturday,
21st July 2018
Time:
10 am prompt
Fees Cost per Delegate is 2,500 Naira. This includes:
*Course Materials *Certificate *Tuition *Refreshment Served by
Lo Sfizio
To Participate you can
Click Here to Register
Or call: 013428624 or 09022442197
CIAPS is a Lagos based international graduate school that offers postgraduate studies in the areas of
Media and Journalism
,
Business Administration
,
Production and Operations Management
,
Business Development
,
Project Management
,
Event Management
,
Banking and Finance
,
Graduate Diploma for Senior PAs Executive Assistants
,
Education
.