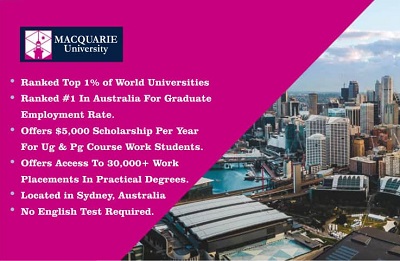 With a campus built on collaboration, every undergraduate students could use from our award winning internship programs.
So when you step out into the real world, you've got it made.
Get the Macquarie edge:
Ranked top 1% of world universities
Ranked number 1 in Australia for graduate employment rate.
Offers $5,000 Scholarship per year for undergraduate and postgraduate course work students.
Offers access to 30,000+ work placements in practical degrees.
Located in Sydney, Australia
No English test required.
For details, visit:
www.preparationforlife.com
or
Whatsapp: 07042924006