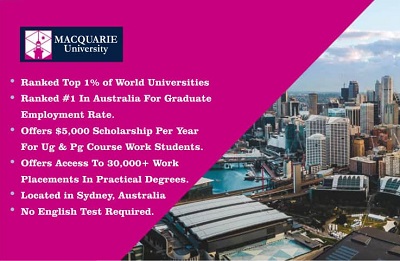 Macquarie University, Sydney, Australia, is recognised globally as a leading university. With our strong tradition of innovation and exploration, we are consistently ranked among the world's best.
The government of Australia is aware of the effect of Covid-19 on international students and have put in place favourable measures to ensure that foreign students do not loose out on several opportunities.
Our campuses are already opened to new students and you can commence your admission process now so as to be able to join us early next year to enjoy excellent student experience on our Sydney campus.

Over 30,000 Work Placements
Some still see university and the eventual job you get as two separate entities. We don't. At Macquarie we work with both Australian and international students to ensure your studies lead you to a satisfying and prosperous career, one that allows you to dream big and make a difference in this world.

Scholarships for students
Each year Macquarie University awards around $6 million in scholarships, most of which are given on the basis of academic merit, diversity, leadership capabilities, financial hardship and/or key achievements such as sports and voluntary experience.
There's a wide range of scholarships for students from all backgrounds, so be sure to check out what's on offer.
As a hub of inspired and unconstrained thinking, Macquarie Univesity is uniquely positioned to help shape the complex issues that define our future.
Built to break from traditions: to be distinctive, progressive, and to be transformational. Today our pioneering history continues to be a source of inspiration as we celebrate our place among the best and brightest minds.
Be a part of our success story....
For details,
click here
to visit: Macquarie University page.
Or

Whatsapp:
07042924006