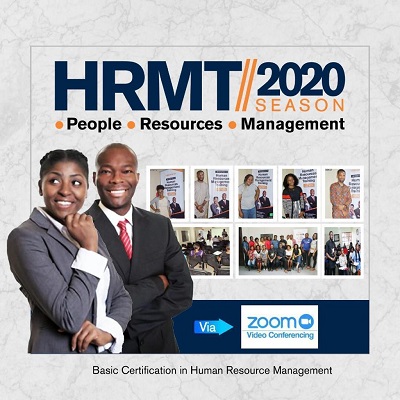 Human Resource Management is the most rewarding administrative career in the world over, it transcends: People, and Resource Management, not only are HRs immune from job cuts and company rationalization; they in fact, shape the direction of any organization undertakes in good and bad times.
The flagship entry level HR training in Nigeria; the basic Human Resource Management (bHRM) program which holds once yearly in the Country by EmployMe E-Learning (Nigeria's foremost Human career development concern) and Young HR professionals in Nigeria will hold ONLINE over 4 weeks starting
September 18th, 2020
.
The bHRM not only starts you off as a HR generalist, it is participants gateway to a rewarding HR career with openings to international HR certification programs and access route to professional level in CIPM. The 4 weeks online training will cover key basics in HR and added introductory training session on GRAPHOLOGY - a new scope in recruitment, selection and job best fits. The session will be over Zoom with classes only on weekends, however students will have access to the EmployMe Learning Management System (LMS) where all course materials, case studies, reviews, assignments and module test will be undertaken from Monday - Friday while classes hold Friday - Sunday. It's a robust training program that produces a full fledged HR generalist upon completion and certification.
Participants will also find the WhatsApp platform post program helpful and rewarding as intern, part and full
HR jobs including mentoring from recognized HR practitioners on board.
Hotnigerianjobs.com also post a whole lot of HR openings especially on the entry level basis for participants to apply in. Are you in Sales, marketing, administration, management, procurement, accounting, logistics, oil & gas, teaching etc and looking to change career path or just looking to start up in HR, the bHRM certification is your best bet to start on.
Don't miss this discounted Covid19 special online training offer.
Details:
Start date:
September 18th, 2020.
Duration:
4 weeks
Location:
Online via Zoom and EmployMe school portal.
Fee:
N20,000
Early bird fee is N18,000 while you can book a slot NOW at N10,000 and pay balance by second week of training.
For modules, faculty and other details click
HERE
Contact details:


EmployMe E-Learning:
www.employme.elearning.ng
Chat: 0708 555 6666
Email:
[email protected]

Follow updates on social media via the links below:
Twitter
|
Facebook
|
Instagram