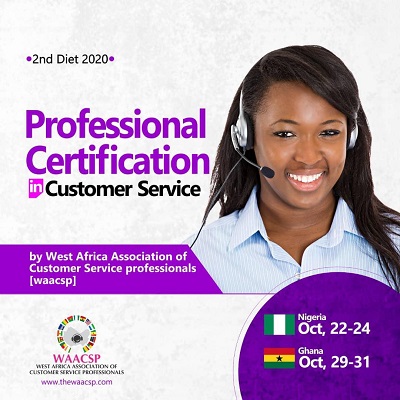 West Africa Association of Customer Service professionals (WAACSP)- the umbrella body of service professionals in the Ecowas region will hold the 2nd of its bi-annual Customer Service certification program this October starting 22nd in Nigeria and 29th in Ghana. Coming on the heels of the 1st diet held in June / July, the body is deploying same online method as was in the 1st diet. Recall that WAACSP was the first professional organization in West Africa to organize an online certification exercise following restrictions as a result of the covid19 pandemic and lockdown, which was generally acclaimed as impactful, educative and more efficient by participants, recruiting partners and stakeholders in the service industry. (Read testimonials and feedbacks post of 1st diet
HERE
).
The 2nd diet is expected to further deepen online certification processes, e-learning, virtual class learning and networking amongst participants from any part of the region and beyond. The technology of the program is the WAACSP Learning Management System (LMS) for module study, pre and post class tests, class work including assignments and certification assessment while the virtual conferencing platform will be used for the 3 days of online class sessions including role plays, participant participation assessment and networking.
New features are also included in the 2nd diet to plug the shortfalls experiences from diet 1, new features includes; pre program test, independent examiner faculty and the 3 R's post result mechanism of Review, Resist and Recertify.
The WAACSP have been in the forefront of breeding a network of employable customer service professionals and over the past 4 years been the supply conduit to regional and international organizations of trained and certified service professionals who have gone ahead to show professionalism in workplace and contribute to income and brand growth whilst providing excellent customer service experience for clients. Successful participants upon completion of the program are inducted into waacsp as; certified customer service professionals and member of WAACSP with their profile listed on WAACSP certified members page where companies, National, regional and internationals head hunt and employ members. The CSP members page is the only recognized recruitment portal for service professionals in the region click
HERE
to view samples of listed members page). Participants from this diet will join the cohorts of 2019 and 1st diet 2020 in the waacsp 2019/20 induction ceremony billed for Lagos-Nigeria in January 2021.
With a changing work space occasioned by Covid, advent of technology in service industry, it is important you obtain a professional certification now than ever before.
If you reside outside key cities of Lagos, Abuja, Accra etc, take advantage of the online nature of certifications this season of Covid to obtain yours, programs of these nature are hardly taken to other cities and for residents of the big cities, the program fee makes online session a better bet to acquire. TAKE ADVANTAGE OF THESE OPPORTUNITIES NOW!
Professional certification in customer service is open to anyone of any career qualification of any industry be you in accounting, administration, health, oil & gas, education, HR, IT, Banking/financial services etc, this adds to your profile, net worth and career options.

Program details

Nigeria October 22 - 24

Ghana: October 29 - 31
All studies and assessment are online, upon registration, participants will have access to the school portal where program modules are available to read up and start reading in preparation to the sessions.

For program details, schedules and fee, click
HERE
Be rest assured HotNigerianJobs remains the best platform to get customer service and related jobs posted weekly and with a WAACSP customer service certification, your career and engagement chances gets higher.
Share this information with anyone you know this could be helpful to.

Other program:
Start your HR career this October with the bHRM certification

Contact:

Nigeria:
+234 7085556666
Ghana:
+233 54 323 3390
Website:
www.thewaacsp.com
E-mail:
[email protected]
Follow WAACSP on socials and homepage details below:
Twitter:
@waacsp
Facebook:
WAACSP
Instagram:
@waacsp_english