Guess what?!

We have a fantastic news for you – The UKEAS Study in Canada exhibition!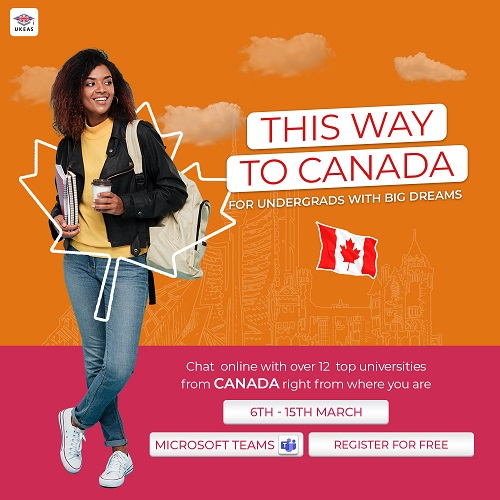 If you are looking to study postgraduate courses in a Canadian university with excellent faculty, flexibility, and small class sizes, earn a degree that enables you to enter the job market with confidence and proceed to a post study visa? Search no more.
You are in the right place! UKEAS is ready to get you connected with 4 universities in Canada offering post graduate courses; University Canada West, York University Ontario, Royal Roads University, University of Lethbridge.
You will get know about:
Entry requirement and eligibility status
Tuition fees – from $20,000 CAD and discounts available
Free Admission and Study visa guidance
Available courses and various intake
Internship and work opportunities and
UKEAS Free Services
Date:
6th – 15th March, 2021

Time:
10am – 6pm

Venue:
Microsoft Teams Apps (available on IOS and Playstore)
Register here
Take a sneak peek at why you should study in Canada:
Canada is rated one of the safest countries to live in.
Canada is home to a vast international community.
International students enjoy limitless Internship and work opportunities.
Students are eligible to up to 20 working hours per week and full time during the holidays.
Students enjoy basic social amenities such as healthcare, security, feeding and other services at discounted.
Canadians are ranked one of the nicest people in the world.
Canada offers up to 2 years' work permit.
Find out more at the exhibition!
Click Here to register online
Buckle your seat belt and allow UKEAS to take you on this journey.