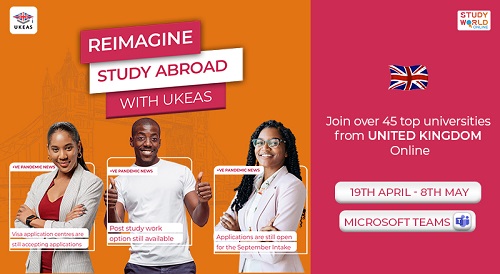 If you're like every other ambitious & hardworking Nigerian, planning to study abroad has definitely crossed your mind several times. You've probably thought about it a lot or discussed it with your friends and family. But aren't you tired of only talking but not doing anything about your study abroad dreams?
It's completely fine to not know how to go about studying abroad or to not have all the information you need, but the question is when an amazing opportunity comes that guarantees to give you all the information you need to study abroad, would you take it?
We hope you will because that amazing opportunity you've been waiting for is here again!
Reimagine Study World Education Fair
has every information you need to successfully start your Study in UK journey. What you will get is an opportunity to chat with over 40 University representatives from over 40 top UK universities and get all the information you need from admission requirements to tuition and even discounts.
Why should you attend?
You'll get to learn about:
New admission requirements
New resumption deadlines
New visa application policies
Covid-19 Information
2 Year post-study visa option
And lots more...
Event Details
Date:
19TH APRIL - 8TH MAY, 2021

Venue:
Microsoft Teams App (Download now)
Click here to register for free!
We've had countless success stories that began right from here. Begin your journey today, change your future, make your study dreams a reality.
Register now