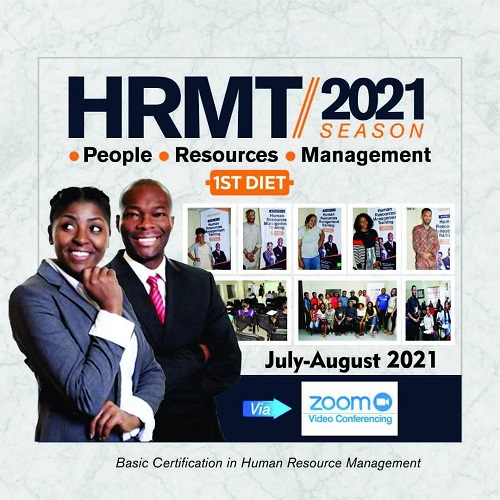 Are you in Administration, Management, Sales, Accounting, Office and Business processing?
Are you a fresh graduate, Corper or looking for an industry to pitch in? Do you admire the HR professional and have been wondering how to get in and become a HR personnel?
Are you just aspiring to get into core professional career not minding your educational certificate, a career in human resource management remains a vital engine in any office/organizational setting and as such a main stay in organizations.
Human Resources involves people and resource management and the demand for HR professionals are witnessing a steady rise locally and internationally.
Nigeria's foremost career training institute EmployMe E-Learning (Nigeria) in association with youngHRprofessionals are in its 5th year of the basic Human Resource Management Training (bHRMT) Program. Over the past four (4) training seasons, the bHRMT have produced over 200 HR generalist and are increasing the HR professionals pool in Nigeria.
This summer's edition of the bHRMT will hold ONLINE over three (3) weekends in July-August starting July 23rd. The course outline, faculty and mode of online training remains and is ranked comparable to international standard hence the EmployMe / YoungHR bHRMT certificate is marginally recognized in the recruiting industry in Nigeria.
A start up career in HR is encouraged if you haven't considered that, NOW may be the right time to start this journey. Key takes from having the bHRM are:
Recognized amongst recruiters, HR managers etc.
With a bHRM certificate, an employ as a HR, your route to membership of CIPMNIGERIA moves one step up.
With a bHRM certificate opens opportunity to take international HR certification courses, exams and membership.
This session as with other session prior maintains various options to participants in accessing and continuous growth in HR as new entrants through mentorship with older HR colleagues and facilitators from the program.

Pre and post program options to help you grow and launch up in HR:
Class WhatsApp platform for HR job postings; full, part and internships.
Networking with fellow HR's
Continuous availability of mentoring by facilitators and senior HR colleagues via resource materials, webinars and membership of HR communities.
Program Details:
Date:
July 23rd - August 8th 2021 (Weekends only).
Venue:
ONLINE (Employme e-school portal) and classes via Zoom.
Fee:
N25,000
Note:
There are options for part payment
This is just one career defining program you can't afford to miss at this period. HR is a very big plan B option in your career at this time.
For program details, course modules, outline and how register, click
HERE
For more details on EmployMe E-Learning courses, programs, job placements and activities, contact via:
Web:
www.employme.ng

Email:
[email protected]
Call/chat:
07085556666
Follow on socials via:
Twitter
@EmploymeNG
Facebook
EmployMe Nigeria

Instagram
@employmeng