Hello Champion
,
One of the major concerns of any professional is advancing their career and getting a well-paid job.
No matter how extensive your credentials and work experience are, the job search can be quite a challenging and time-consuming task. Don't be discouraged at this point. What is needed is a certification that makes resume/CV relevant for any industry.
PMP Project Management Certification
will help solve this challenge.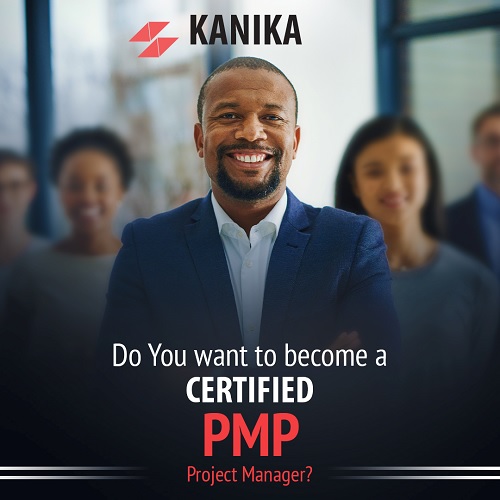 Project management is an in-demand skill. Industries such as engineering, healthcare, financial services, technology, and law require people who have a high level of organizational and leadership skills.

Skills that Project Managers are trained to develop:
a.) A PMP can work in virtually any industry, with any methodology, and in any location.
b.) PMP also increases your earning potential.
c.) It is more recognizable because it is globally accepted.
If you intend pursuing a career in project management or not, the benefits of taking a project management certification can positively impact your success in 2021 both personal and professional life.
"
PAY JUST N20,000 INSTEAD OF THE VALUED PRICE OF N40,000
"
The first 10 people to Gets it for N15,000. This will be based on a first come first serve basis.

HOW TO REGISTER?

Kindly following these simple steps to learn more:
Click on this Learn More link to get more details and/or get the PMP Certification Training: Learn More. Then provide your details and click submit.
After you submit more details will be sent to you via email and you will be redirected to the checkout page.
The Checkout page is where you create your login details and make payment. Kindly choose the option of payment either Bank transfer or Debit or Credit card payment. Then you can click on Place Order.
You will receive an email with your login access to start your training immediately your payment is completed.
IS THIS TRAINING RELEVANT FOR ME?

This Course Is For The Following Groups of People:
Early and Mid-Career Professionals – The course will help you advance your career with a deeper understanding of core business and project concepts.
Leaders and Entrepreneurs – You will develop skills that can help you, your team, and the organization achieves success.
Recent Graduates – You will gain a competitive edge when entering into the job market with new, actionable skills and knowledge that employers are looking for.
Click here to take advantage and start a PMP Certification training
.

WHAT WILL I GAIN?
This is the perfect opportunity to advance your career and keep your skills sharp with our online detailed PMP Project Management Training. The objective of the training is to prepare you for the certification exam and also teach you how to apply the PMP framework (6th Edition syllabus of PMBOK) on projects. Gain access to our detailed, self-paced pre-recorded tutor-led online training that you can access on your phone, tablet, or laptop at any time and anywhere in the world and complete fully online. By joining our PMP training you will:
Clearly understand what projects are and how they differ from operations and programs. The training is broken down into 15 sections and each section has an average of 6 lessons. Each lesson has videos and additional write up to provide clarity on what you learn in the particular lesson. And at the end of each section, there is a quiz section with reversed engineered answers to the quiz. You also have 4 downloadable PDFs of different training/ study materials for further studies.
The training is based on the 6th Edition of PMBOK (The current edition) and the facilitator is a certified PMP Professional who has trained hundreds of certified PMPs.
Equipped with the skills and competencies necessary to effectively and successfully manage projects with examples of local and international project examples.
Be prepared for the PMP certification examination. It's packed with quizzes at the end of each section and at the end of the training, you will have an opportunity to test how prepared you are for the certification exam with our time-based PMP simulated questions. This course is very good for anyone preparing for the PMP Certification examination.
At the end of the training you will be issued a Certificate of participation that provides you with the 35 contact hours for your PMP exam registration. With the certificate issue, employers can verify at any time from our online porter that you have completed the course on our platform successfully.
WHAT OUR CUSTOMERS ARE SAYING:
I also went ahead and compiled a few of the comments we saw on our Google reviews and Course page reviews from people who already bought this training, so you could hear it from others. Here you go:
Tim Akinola said:
"
The course is really breathtaking with professional delivery, consistently clear video presentations. I'm excited to be a part of this part of this course as I'm looking forward joining or taking other courses from Kanika Learn when they eventually begin.
"
Obi Ifeama said:
"
This is one of the best opportunities you can get during this period, not only are the lectures very detailed, you can study from the comfort of your home.
"

Bolatito Adele-Bolaji said:
"
Well detailed Training…Highly impactful.
"
Ready to get the discount now? I thought so!
Click here to get your Training
.
CONTACT US:
Emai:
[email protected]
Telephone:
09035876908