A lot of school leavers are at a loss on how to navigate their journeys in the world of work and the marketplace even after spending quality years in school. The path to self-discovery and identifying effective career choices is a necessary tool to ensuring fulfillment, productivity, and a rewarding experience at work. The Choosing a Career E-Book helps to provide the clarity required to thrive in one's career journey.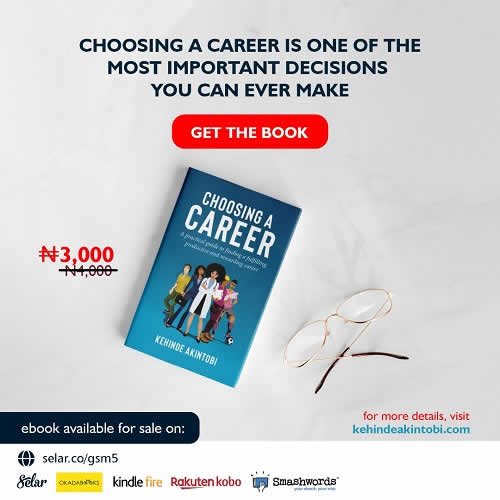 In this book, you will learn about:
5 pillars for an effective career
2 work dispositions that exist in the workplace
7 tips for choosing an effective career
4 dimensions of knowledge required to thrive in the workplace
6 work modalities/approaches that can give you further clarity in your career pursuits
4 approaches to validate your choice of career
The first 50 buyers of the book will stand a chance to qualify to win a N50,000 Jumia shopping voucher. The winner will be announced on
https://kehindeakintobi.com
The Book is available on Selar:
https://selar.co/gsm5
and
https://kehindeakintobi.com/bookstore/

Click here to buy this book now!
For inquiries on bulk orders or sponsorships for distribution to school communities, please send an email to:
[email protected]