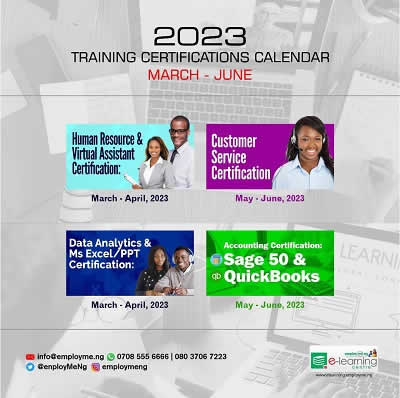 With the First quarter of year 2023 'lost' to the elections, now is the time to concentrate on your personal career development and growth.
To improve your employability and job prospects, update your skills set, certifications and add new training to your resume, change career path, position to increase pay rise, promotion and position for future jobs. All these you need TRAININGS & CERTIFICATIONS in the relevant career sphere you are in or intend to go into.
We recommend Africa's most acceptable ONLINE training school: EMPLOYME E-LEARNING. With the revised 2023 calendar, the following certifications training program is on the horizon:
Data Analytics
Human Resources
Virtual Assistant
Customer Service
Microsoft Advanced Excel
Microsoft PowerPoint
Sage50 accounting software
QuickBooks accounting software
These trainings come certified and in conjunction with relevant professional organizations in the field.
Data Analytics - (by Google Inc )
- Get trained and accredited as a certified Data Analyst. Learn how to analyse data & build statistical models for practical, real-world scenarios.
Class starts April 2023
.

Human Resource Management - (Certification by Young HR professionals)
- the HR program covers all study outlays for being a HR generalist as you start a career in HR.
Program starts March 26, 2023.
Basic Certification in Customer Service - BCCS (Certification by West Africa Association of Customer Service Professionals WAACSP)
- If you desire a career in customer service the ECOWAS - WAACSP program is the certification for you to grow in CS.
Program starts June 1, 2023.

Virtual Assistant Management Training (Certification by Career School UK)
- The Virtual assistant job is an emerging career space since the Covid19 era, with jobs going more remote VA is gaining more traction. A certificate, training and understanding of VA is key to getting VA jobs which is high paying field now. T
he VA training Starts April, 2023
.

Other Key Programs To Improve Your Career:
Microsoft Advanced Excel - April 2023
Microsoft PowerPoint - April 2023
Practical Accounting Software Training (PAST) covering - Sage50 and QuickBooks - May 2023
For all the program details, cost, benefits, curriculum and how to participate, click the link below:
https://elearning.employme.ng/career-certifications-and-training-programs-to-improve-you-in-2023/

Benefits of Undertaking Certification Courses with EmployMe E-Learning
Student to facilitator ratio and one to one interaction to enable post class tutorial and assistance.
All certificates are acceptable in Africa, UK and Canada work spaces.
Whatsapp platform for all program participants where job openings in the program attended are posted.
CV review and discounted fee for CV rewrite for participants of EmployMe programs.
Discounted fees for professional refrence, academic CV, scholarship essay, chevening essay, LinkedIn optimization etc.
Contact EmployMe on:
Email:
[email protected]
Whatsapp:
+2347085556666
Follow EmployMe on:
Web:
https://elearning.employme.ng
Twitter:
@EmployMeNg
Facebook:
EmployMe e-learning centre
IG:
@employmeng